Increasingly, property owners are opting for the peace of mind that a properly installed and maintained automatic fire sprinkler system affords. For many years, fire sprinkler systems have delivered a proven track record in protecting life and property in industrial and commercial buildings. The introduction of residential systems has been made possible with the development of rapid response fire sprinkler heads.
Fire sprinkler installation is often only one of the piping services that Lunt Marymor brings to the jobsite – we often package our plumbing, radiant heating, and fire sprinkler bids to give the Project Manager an opportunity for efficient and seamless management of all the piping trades.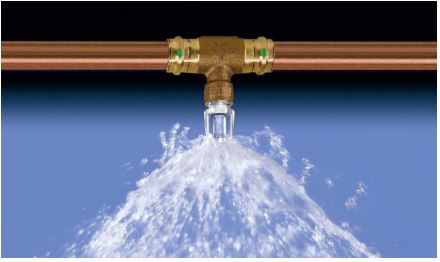 Fire sprinkler systems greatly enhance life safety by detecting and controlling a fire at the earliest stage of its development and quickly sounding an alarm. The automatic operation of the system controls the fire, reduces the amount of heat and smoke, and allows time for safe exit from the building. Each fire sprinkler head is individually heat-activated. The sprinkler heads are connected to a network of pipes that are connected to the main water supply. A fire sprinkler head will activate and discharge a "fan" of water only when the heat of a fire raises the sprinkler to its operating temperature. Only those heads located directly over the fire will activate. The result is that fire temperatures are reduced, and the levels of toxic gases are lowered within the room of origin. The goal of installing a fire sprinkler system is to keep a fire from reaching potentially dangerous and life-threatening levels.